Burns & Burns Insurance hosted Brad Lloyd, CLCS, CPIA from Acuity Insurance to teach classes about cyber liability insurance on November 4th, 9th, and 10th 2021. Brad visited the Clearfield, Mercer, and Clarion locations, respectively. Brad is the Territory Director of Western Pennsylvania for Acuity Insurance. The sessions were intended to provide knowledge and more information on Acuity's Cyber Liability product. This helped to better educate B&B agents and servicers about the complexity of cyber security and data compromises and how to best insure their clients.
Brad Lloyd also shared some interesting facts during the class about the current state of cyber security and insurance. First, information at risk from a cyber liability perspective could include financial information, trade secrets, employee records, and owned business data. Many people would think that only large corporate companies would have to worry about cyber liability, however, 29% of small companies have experienced at least one data compromise. Cyber claims cost about $188,000 on average. Additionally, about 60% of businesses will go out of businesses 6 months after a cyber claim. Burns & Burns, with Acuity Insurance, can insure both businesses and individuals for cyber liability to protect themselves in the event of a cyber breach.
Burns is a 4th generation independent insurance agency with 9 branches across Northwestern Pennsylvania. These branches include Clarion, Bradford, Clearfield, Erie, Meadville, Mercer, New Wilmington, Tionesta, and Warren. The full-service, Trusted Choice agency celebrated their 80th anniversary in business in 2019. Representing over 60 insurance carriers, Burns & Burns is licensed to offer many lines of coverage, including auto, home, life, business, health, Medicare, workers' compensation, benefits, events, weddings AND MORE! With over 900 combined years of experience, Burns & Burns is sure to find you the right fit for ALL of your insurance needs! Visit their Facebook page or website for more information or a free quote!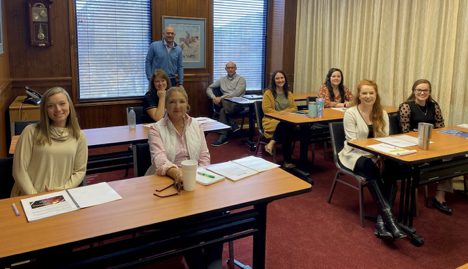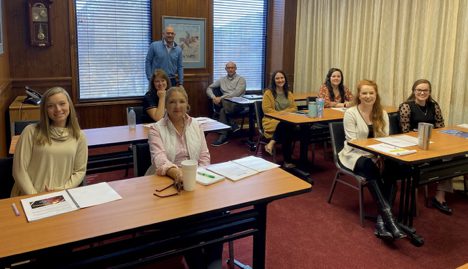 Class in Clarion, PA. Pictured: Jamie Knoch, Tammy Jewell, Mary Jane Allio, Brad Lloyd, Jim Campbell, Tamera Fitzsimmons, Kelly Newman, Alexis Burns, and Carina Burns